Rock Hill High School


Class of 1967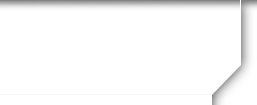 In Memory
Garold Simmers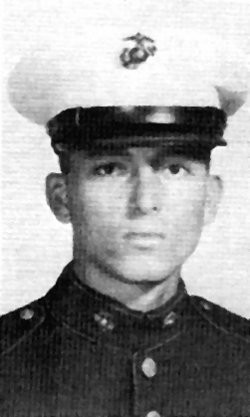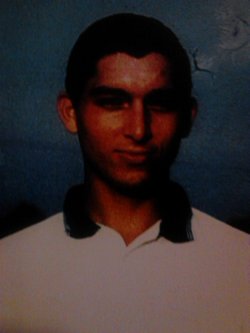 Birth: Aug. 3, 1948, Rock Hill, York County, South Carolina, USA
Death: Feb. 24, 1969, Quang Nam, Vietnam
Garold was the son of Grant J. Simmers and Marie R.S. Simmers of Rock Hill SC and he enlisted in the US Marine Corps on July 30 1968 in Charlotte NC.
PFC Simmers arrived in Vietnam on February 9, 1969 and was assigned to Company L, 3d Battalion, 7th Marines 1st MARDIV (Rein). Within days the 1969 Tet Offensive began and the Marines would enter a battle lasting several weeks.
After the long battle on the previous day, on the morning of February 24 after extensive artillery barrages and fixed wing air strikes of the enemy positions on the An Tan Ridge, Company L with the Command Group, reinforced by an additional Platoon resumed the attack against the enemy force to dislodge them. The NVA were dug in and would not retreat but rather unbelievably after all the ordnance that was dropped on their positions they seem more determined than ever to face the Marines. Heavy automatic weapons and B-40 rocket fire cut into the ranks of the men of Company L, inflicting numerous casualties. With no clear sight of the enemy, maneuvering against an unseen foe was difficult until finally the Marines had to withdraw again to defendable positions leaving a man who died where he fell on the battlefield to be recovered later.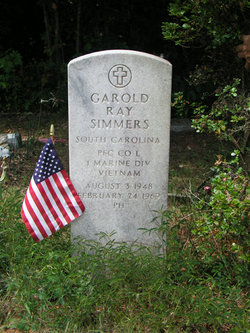 Besides the numerous wounded, six men had been killed in action including the Company Commander, Capt. Hall, and PFC Simmers who had died as a result of a hostile gunshot wound.
Casualties: Michael Bernard Duffy, James Kenneth Hall, Tommy Johnson, Garold Ray Simmers, Gary Wendell Smith, Wayne Lewis Thomas.
Burial: Church of Jesus Christ of Latter-day Saints Cemetery, Catawba, York County, South Carolina, USA